Are you a visionary entrepreneur seeking new horizons for your business ventures? Look no further than Bahrain, a land of limitless possibilities for investors and businessmen alike. By obtaining an investor visa Bahrain or businessman visa Bahrain, you gain access to a world of opportunities in this thriving Kingdom. We will also explain you about the requirements for investor visa Bahrain, cost of an investor visa or a businessman visa in Bahrain, its process time, monthly and renewal charges for investor visa and businessman visa in Bahrain.
Bahrain's business-friendly environment, strategic location, and robust infrastructure make it an ideal destination to establish or expand your enterprise. Our reliable and expert guidance ensures a streamlined and hassle-free process, empowering you to navigate the requirements with ease. With a solid legal framework and government support, Bahrain sets the stage for your business to flourish and thrive. Don't miss out on this golden chance to make your mark in Bahrain's dynamic marketplace. Let us be your trusted partner on this exciting journey, as we unlock the door to success and unlock the potential of your business in Bahrain.
The Government of Bahrain is rewarding each foreign investor with an Investor visa Bahrain or a Businessman visa Bahrain. Investor visa and Businessman visa are the two names of one visa category. So, any person who will open a new company in Bahrain can get a Businessman visa in Bahrain. Bahrain offers a wide variety of additional sorts of visas. However, in Bahrain, an investor visa or a Businessman visa has its features, like company owners only can get the Businessman visa, and there is no GOSI (insurance) for the investors. Bahrain allows businesses to get an infinite number of business visas. The more partners in the company, the more Businessman visa in Bahrain are available.
Why select
Bahrain

investor visa
When looking to open a business in Bahrain, the first question that pops up in one's head is why go for this country? Bahrain provides companies with worthwhile prospects and the finest connectivity to the expanding industries of the Gulf well beyond. Bahrain's geographical benefits stem from its central location in the Gulf area and are continuously improved by new infrastructural initiatives. Bahrain's location at the center of the Gulf Region connects directly to just about every sector of the region highly quickly, effectively, and easily, with exposure to a market value of 2 trillion dollars. We've laid down all the reasons why Bahrain is just the location to fulfill your dream of starting up a business.
1.  Skilled individual capital:
Gain access to the best professionals in MENA. Bahrainis are highly motivated and bring a remarkable range of abilities to the workplace.
2.  Strategically placed:
Come in contact with the 1.4 trillion dollar sector in the GCC: Bahrain is the obvious entry point to the Mideast, with significantly advantageous connectivity to Saudi Arabia, the area's biggest economy and industry.
3.  Progressive government:
Bahrain keeps moving forward with modifications and regulations that enable companies and sectors to develop themselves and flourish, building on its history of innovation.
4.  The extraordinary way of life:
Bahrain is first. Rated as being one of the finest cities in the world to reside in, generally recognized for its employment prospects, professional contentment, engaging culture, and simplicity of relocating.
5.  Favorable business climate:
The government of Bahrain collaborates closely with industry leaders and policymakers to look for ways to improve the country's economic climate and foster the best possible business operations. Through this relationship, Bahrain has made significant strides toward introducing programs that foster an environment that is supportive and creative and encourages the growth of enterprises.
6. Diversified neighborhood:
Naturally, Bahrain extends a friendly response to individuals of all backgrounds. Whether they're citizens of GCC surrounding states, Arab nations, or foreign nations. Bahrain's current standing as a center for investment and commerce is largely due to this diversification. People from all over the world are choosing the country as a place to live and invest. Additionally, every non-Bahraini contributes their knowledge, history, and culture to the peaceful environment you will discover when you engage with the investment world of Bahrain.
7.  A productive work population:
Bahrain's labor is distinguished by having the greatest levels of accuracy, competence, and academic achievement in the GCC. Investors are able to lower the amount needed to hire foreign workers as a result. Investors can also hire local workers to replace overseas workers without sacrificing productivity or competence. Bahraini nationals made up about 66% of the labor force in the financial services industry as reported by the Central Bank of Bahrain in the year 2010.
8.  Thriving real estate sector:
The property market in Bahrain, which is regarded as one of the greatest in the country, is the next point worth highlighting. Investors from close and distant have always seized every opportunity to tap into the country's increasing industry. Bahrain is always experiencing new construction, which creates additional chances. In general, Bahrain's property market provides homes for all preferences and price ranges, ranging from high-end luxury homes to initiatives created especially for young folks with middle-class incomes. Additionally, there are freehold places available, allowing foreigners to participate in this robust market. As a result, if you want to invest in Bahrain, you will have a ton of possibilities.
What are the types of an Investor Visa Bahrain?
As per our understanding and the name shows, an investor is the person who invests the money in the company and cares about profits, but a businessman is a person who invests money and has business skills to run the company. Someone who operates a company in the country of Bahrain must have an investor VISA, according to the immigration rules of Bahrain. Bahrain offers two different kinds of visas:
Foreigners must obtain the Ministry of Industry, Commerce, and Tourism's as well as the NPRA's seal of approval regarding their nationality, passports, and residency affairs. The investor's visa will be issued to the individual applying by the LMRA (Labor Market Regulatory Authority) in the country. By establishing a company in Bahrain, you can secure a profitable visa. Over 350 various sorts of enterprises are permitted to have 100 percent foreign control in the nation. When you receive the visa, conducting business won't be a problem. Additionally, visa users benefit from unlimited entry and simple access to additional desired Gulf destinations. The main advantages are available if you secure an investment visa in Bahrain;
Bahraini standing as an entrepreneur.
Numerous entries are allowed without limitations.
Simple entrance into other Middle Eastern nations.
Requirements for Investor Visa Bahrain:
To get a Businessman visa in Bahrain, either person should open a new company in Bahrain or invest in an existing company, come into the partnership or buy some existing company shares. On this basis, he will be eligible for an Businessman visa in Bahrain, and then he can get an Businessman visa in Bahrain.
Do you have questions regarding obtaining an Investor visa and establishing a company in Bahrain? Whether you're eligible to open a business, invest, and obtain an investor visa in Bahrain? Several people will be relieved to learn that the country has no limitations on the number of investments, which is the subsequent piece of knowledge shared. With just an investment of 1 BHD, businessmen with enthusiasm can obtain a visa.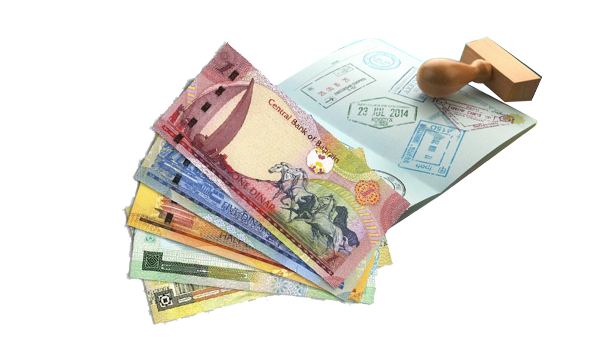 1.  Renewal fees | Investor Visa Bahrain:
The prices differ depending on whether you extend your Visa for a duration of six months, a year, or 2 years in Bahrain. For renewals lasting 6 months, one year, and two years correspondingly, the overall expenditure is about BHD 86, BHD 172, and BHD 344. 
What is the cost of visa an investor visa in Bahrain?
The cost of an Investor visa Bahrain or a Businessman visa Bahrain is BHD 172 for one year and BHD 344 for two years
2.  Monthly Charges:
The last category of expenses that needs to be highlighted is the monthly charges when applying for a business or investor visa in Bahrain. The Investor visa has a fee of 5 BHD that needs to be paid every month. If there are more than 5 expats under a company then 6th and onward employee/investor fee  will be BHD 10 per month.
Requirements for investor visa Bahrain?
To qualify for a business person or investor visa in Bahrain, you must utilize the LMRA Expat Management system, which asks for information such as your name, passport number, nationality, address in Bahrain (if applicable), father's name, marital status, education level the issue as well as expiration dates of your passport, the title of the hospital where you received your healthcare services, and your medical slip number. If investors would like to avoid any problems when applying for an Investor VISA, they should have the supporting information available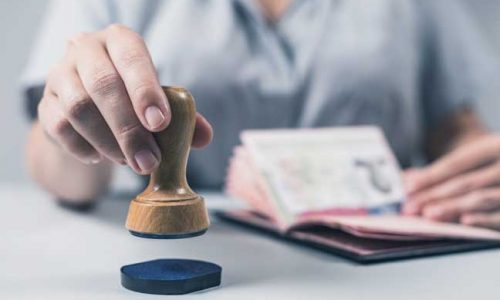 What is the processing time of an Investor visa Bahrain application?
The process time for a Businessman visa in Bahrain or an Investor visa in Bahrain vary from application to application but the normal process time for a investor visa Bahrain application in Bahrain is 5-8 Business days as it require three approvals : First from LMRA (Labor Market Regulatory Authority), secondly CIO (Central Informatics Organization) and Lastly from NPRA ( National Passport and Residency Affairs)
Applying for an investor visa in Bahrain can be a complex process, but don't worry – Setup in Bahrain Business Centre is here to assist you every step of the way. As a reputable and experienced service provider, we have extensive knowledge of the visa application procedures and requirements. Our dedicated team of experts will guide you through the entire process, ensuring that you have all the necessary documentation and meet the eligibility criteria. From preparing and submitting your application to liaising with the relevant authorities, we handle the administrative tasks on your behalf, saving you time and effort. With Setup in Bahrain Business Centre by your side, you can confidently navigate the investor visa application process and focus on setting up or expanding your business in Bahrain. Contact us today and let us help you realize your entrepreneurial dreams in the Kingdom of Bahrain.