Did you stuck with CR Renewal? Do you want to Renew your Commercial Registration and Activity without Ekey and Same day? Are you getting a message or violation while renewal of Commercial registration? We are here to manage all that for you. The cost to renew the CR BHD 50 and the activity renewal fee is BHD 100, please contact us to renew
On time CR Renewal (Commercial Registration Renewal) and business activity renewal is so important for all businesses in Bahrain, a  Commercial Registration remains valid for one year, meaning it has to renew the CR every year as per the ministry of industry, commerce and tourism of kingdom of Bahrain. Don't worry though, it's a pretty straight forward process and we can do it for you.
Do I need to renew the CR and the activities?
Every Business in Bahrain requires CR renewal after completing the one year that starts from registration. Since every business is subject to an annual CR renewal, all businessmen in the kingdom of Bahrain should renew the CR and renew the business activity on time to avoid deleting licenses and penalties. 
There are such simple requirements of CR Renewal in Bahrain that is only CR number from Ministry of Industry, Commerce and tourism of Kingdom of Bahrain. We, Setup in Bahrain is offering you the same day renewal service of CR and activity of your company. You can contact us on mobile +973-33733381 or on below Whatsapp link, Chat option or on our email ceo@setupinbahrain.com
CR Renewal Fee Bahrain
According to Official Gazette, Issue No. 3395 on Thursday, November 29, 2018 the activity fee will be BHD 100 for first 3 activities  including activities in all branches and 4th onward each additional activity will cost BHD 100 and the Cr Renewal Fee will be BHD 50 and total CR Renewal annual fee will be BHD 150 (BHD 50 + BHD 100) with 3 or less activities.
Setup in Bahrain offers CR Renewal and business activity renewal service to its customers in the Kingdom of Bahrain promptly without paying any penalty or extra fee. The government fee for the renewal of CR differs according to the number and type of Business activities.
Please contact us to renew your CR in Bahrain and setup your business in Bahrain.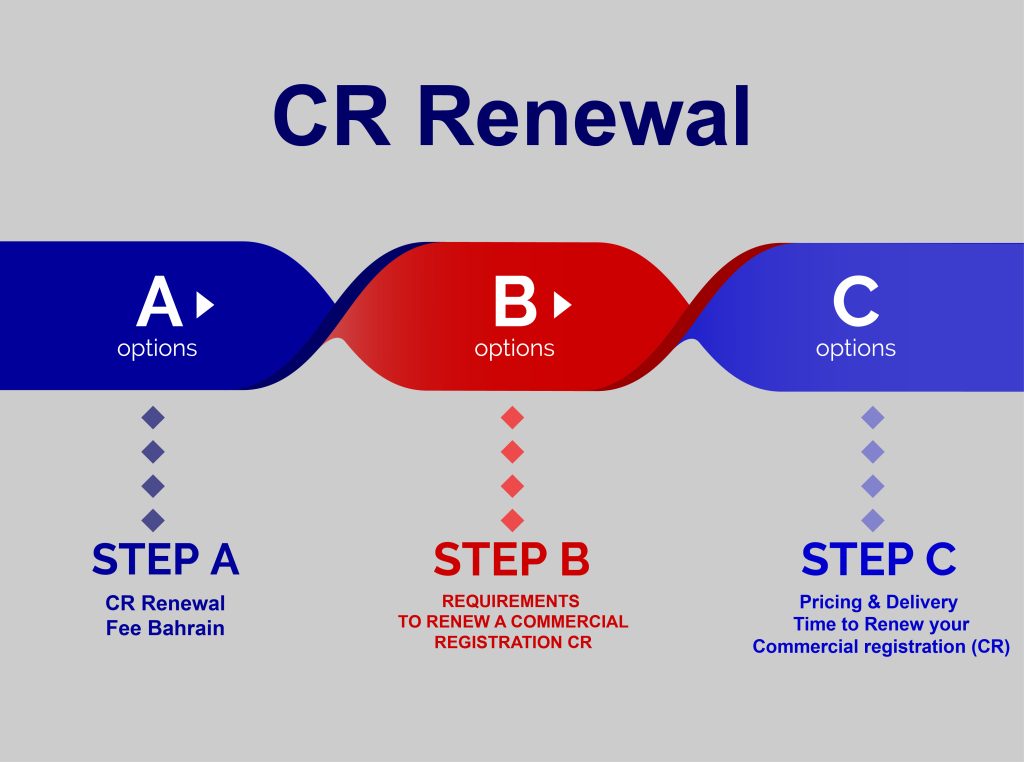 Requirements to Renew a Commercial Registration CR
Pricing & Delivery Time to Renew your Commercial registration (CR)
Starting at 15 BHD 10.00 BHD
You will never have to wait for Months or days . We will renew your CR on same day .We also can remove the violation that stopping the CR Renewal. Moreover, we are estimating this roughly and time can vary according to orders but your order will be deliver as soon as possible. 
Setup in Bahrain is the best firm to deliver the activity renewal and CR renewal for companies in Bahrain, we can renew your CR in one day and can remove the violation if there is any in an effective manner and following the regulations of Ministry of Industry and Commerce and tourism of kingdom of Bahrain.
There are some violations that do not investors to renew the Commercial registration that includes the following:
Left Address without informing to the Ministry of Industry and Commerce
Did not Submission the audit report
Missing sign board or Spelling mistake in the Business name on sign board
Practicing an activity without approval
Electricity Account is Closed
We, the Setup in Bahrain are here to assist you in resolve the above violations on CR and renew your CR on timely basis along with renewal of activity so that you can do business in Bahrain in a relax and productive way.